Version B itinerary: -

Day 1. Arrive in Blair Atholl, and depending on time you could visit the famous Blair Castle, home of the Duke of Atholl, and the last remaining private army in Europe. The castle played an important part in the 1715 Jacobite Rising. You can also visit the village folk museum to see how life used to be in the old days for the local people. (Extra night in Blair Atholl is highly recommended, if you want to have more time to explore local walks in Glen Tilt. Pony-trekking and cycle hire also available in the village).



Day 2. Today you can start with an easy riverside walk to Killiecrankie, scene of the famous battle in 1689 and the Soldier's Leap over the River Garry. Then continue on river-side and forest trails to Pitlochry. (8 miles). If you prefer, it is also possible to take a more challenging route over the hills (12 miles). On arrival in Pitlochry you can visit one of the local malt whisky distilleries, or see a play at the local Festival Theatre. If you choose to have an extra day in Pitlochry you could climb Ben Vrackie (2757ft./841m) the mountain which overlooks the town, and has great views of the southern Highlands.


Day 3. A gentle climb over the hill between Pitlochry and Strathtay in the morning, and then a chance for a coffee at the Scottish Chocolate Centre by the banks of the River Tay. Then continue west by following the line of the old disused railway line and new riverbank path to Aberfeldy (10 miles), or only 5 miles if you decide to take a local bus from Strathtay). On approaching Aberfeldy, you have the opportunity to visit the Aberfeldy Whisky Distillery and Dewars World of Whisky Centre. If you have an extra day in Aberfeldy you have the chance to visit Menzies Castle, which lies just beyond the village of Weem on the north side of the River Tay.



Day 4. An opportunity to explore the Birks o' Aberfeldy, an impressive woodland gorge & waterfall made famous by the poet Robert Burns. The historic theme continues, as you soon pass a Neolithic stone circle 4000 years old; and then Taymouth Castle, where Queen Victoria spent her honeymoon. The day finishes in the 'model' village of Kenmore, at the mouth of Loch Tay. (8 miles, or 12 miles if you take an optional detour).


Day 5. Start the day with a visit to the re-constructed crannog (an iron-age house built on an artificial island on Loch Tay). This is a fascinating opportunity to see how the ancient Celts lived 2500 years ago. The walk continues with an ascent up Drummond Hill, to a viewpoint overlooking Loch Tay and Priory island, where Queen Sybilla of Scotland was buried in the 13th Century. The trail continues above Loch Tay, ending at the peaceful village of Fortingall. (6 miles). This was an important area in Neolithic times and many stone circles and standing stones can still be seen around the village. Fortingall is best known for its ancient yew tree which is estimated to be at least 3000 years old, which makes it the oldest living tree in Europe.


Day 6. Today's walk (12 miles) is the most challenging walk on the route and takes you by remote Glen Mor, (the great valley) overlooked by Schiehallion. There is also an easier alternative from further up Glen Lyon taking you to the shores of Loch Rannoch. The walk finishes at the quiet village of Kinloch Rannoch in the heart of the Highlands, where you have your last overnight stop. If you have an extra night this allows time to explore the area - options include a half-day walk to see the ruins of a deserted Highland village; or hire a bike and cycle around the loch (24 miles - 38 kms). The latter allows you to explore one of the few remaining parts of the Caledonian pine forest. If weather is favourable, it is also possible to climb Schiehallion (3553ft - 1083m), or Craig a Varr, the smaller but steeper hill above the village, which gives great views over Loch Rannoch and to the west.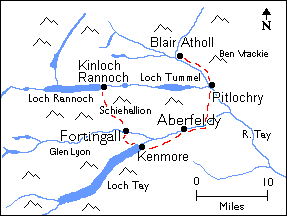 Version A. (9 nights). This version is as detailed above but you have extra nights in Blair Atholl, Aberfeldy and Kinloch Rannoch. If you prefer to climb Ben Vrackie (2757 feet, 841m) you can have an extra night in Pitlochry instead of Blair Atholl. These extra nights give more time to explore the many attractions in each area.

Accommodation is based in very good B&B's and guest houses in all the villages except Kenmore and Fortingall where we book the hotels as standard. If you would like to stay in B&B/guest houses on all the nights this is usually possible and we can arrange the walk for a lower price - usually about £465 for the 6 nights itinerary.

Fewer nights if you only have a few days, it is also possible to start this walk in Pitlochry, or Aberfeldy, or miss out the over night stop at Kenmore. (If you miss out the overnight in Kenmore you may also wish to take the shorter route between Aberfeldy and Fortingall along the banks of the River Tay and then the River Lyon, which makes the total distance only 8 miles).

Notes:We recommend you have extra nights in Blair Atholl, Pitlochry, Aberfeldy or Kinloch Rannoch. On most days you have options to take longer walks if you wish. The walk from Fortingall to Kinloch Rannoch involves an ascent of about 2000 feet (600m) and may not be possible during the deer stalking season (early September to late October). If stalking is planned on this day you can still take an alternative footpath to Kinloch Rannoch from further up Glen Lyon. Alternatively, always choose a start date which means you arrive in Kinloch Rannoch on a Sunday as there is never any stalking on Sundays.

We are based in Aberfeldy which you pass through on this walk, so we come to meet you at your accommodation to say hello and answer any questions you may have about the rest of the hike. We have been organising walks in this area of Scotland for 30 years so there is not much we don't know about the things to see and do along the way.

Travel Information:


Start: Blair Atholl is 75 miles north of Edinburgh/Glasgow and can be reached by bus or train or taxi. Journey takes less than 2 hours. We can also arrange airport transfers from Edinburgh to Blair Atholl for £125 (for up to 4 people) and from Glasgow (£165 for up to 4 people).

Finish: The local bus service from Kinloch Rannoch to Pitlochry (for bus or train to Inverness or Edinburgh) or to Rannoch Station (for West Highland Line to Glasgow / Fort William) does not operate on a Sunday but taxis are available (cost is about £35). So if you do not want to pay extra for the taxi, choose a start date/itinerary which means your last night in Kinloch Rannoch is not on a Saturday. Journey to Edinburgh takes 3 to 4 hours, so the earliest arrival time by public transport is around 1300 hrs. Taxi takes about 2 hours, cost about £160.